Top Spot forms part of our listing depth offering, enabling you to buy a Showcase spot which sits in the number one position of the 5 available Showcase spots.
A Top Spot can be purchased against a nominated inventory item that will be positioned at the top of page one on the listing page.
A nominated number of "Top Spots" will be available to be purchased based on Make – Model within each state. In the event there are multiple Top Spots available within a Make- Model these spots will be rotated via equal percentage (i.e. share of voice).
To appear at the top of a search your inventory item must be contextual to the search criteria.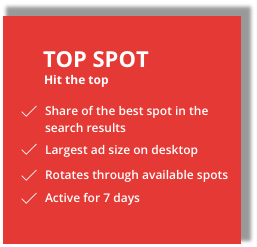 Want to upgrade to Top Spot? Click here to find out how.