Showcase is a flexible advertising unit in the largest ad format that features for 7 days, giving you the ability to be reactive to the market, anytime.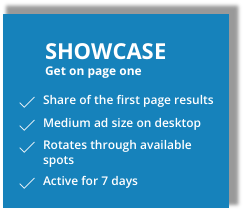 Increase the awareness of selected inventory items
Purchase Showcase 24/7 within a matter of seconds through AutoGate's Inventory Promote page
Features the largest image sizes and displays 6 of your images in the search results
Showcase ads become live within minutes of purchase, giving your listing immediate impact within the top 5 positions of a search result for the next 7 days 
Want to upgrade to Showcase? Click here to find out how.