AutoGate allows you to create custom reports to monitor your dealership's performance. To get started, please follow the steps below,
1. Click on the "Reports" icon,

2. The menu will expand out to a sub-menu. If you'd like to create custom reports you can do so by clicking on the "Configurable Report" icon in the resulting sub-menu. Please note that "Configurable Reports" is only available to dealers who have subscribed to AutoGatePRO.
If you would like to subscribe to AutoGatePRO, please contact your Digital Account Manager via the contact details at the top of your Autogate screen.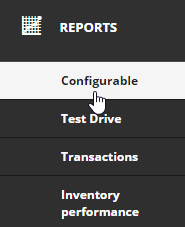 3. Once here, you are able to filter attributes into a report that you'd like to see. Once done click the "Generate Report" and a dashboard will be created for you.