What are Seller Badges?
Seller badges are visual tags that you can attach to your listing to promote additional capabilities and services offered.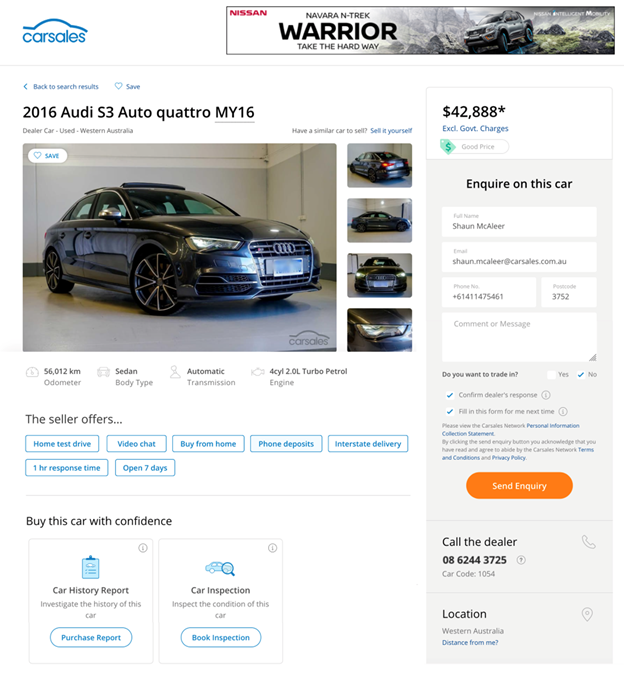 This new feature is completely free during the COVID-19 period as part of the continued additional support carsales.com Ltd is offering to its dealer partners. When a consumer clicks on one of these badges, a pop-up window will appear explaining each service in more depth.
What are its benefits?
Seller badges help in a number of ways, when it comes to promoting your listings.
Influence a potential buyers decision to place an enquiry by increasing the visibility of services, capabilities and even sanitisation policies

Indicate the solutions you have for buyers to engage with your dealership digitally in a time where movement is restricted. Highlight your ability to offer helpful services such as the ability to deliver the car, offer phone deposits and/or conduct video tours, aiding in purchasing a car sight unseen.

Let consumers know when you are open and when they can expect to hear from you. With various retail businesses closed or changing up their business hours. Let customers know you are still open for business.
How do I apply badges?
Badge management can be accessed through the Portal and can be switched on and off. Note – you must have 'user management' permission to access the toggles.
To access the badges management section and select which badges you would like to apply to your inventory please log into your dealer portal and head to the Update Dealership section under User settings.
From here, select the Services section from the Navigation menu and you will see Badges and toggles for each.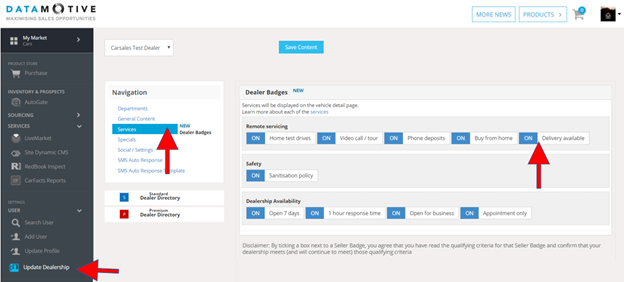 Please note: it will take between 5-15 mins to update on your listings and if you have multiple accounts you must apply these across each individually. It can take a few days for iOS and Android app to be updated. Dealers are encouraged to download the latest version of app, to be able to test this new functionality.
Here is a list of the badges and what each means below:
| | | |
| --- | --- | --- |
| Badge label | Tip (what does it mean) | Applicable verticals |
| Open 7 days | This seller is open 7 days a week. Public holidays and alternate trading hours may apply. Customers should contact the seller to confirm current trading hours. | All |
| 1 hour response time | This seller will endeavour to respond to customer enquiries within 1 hour during business hours. Excludes public holidays. | All |
| Open for business | This seller is open for business, though altered trading hours may apply. Customers should contact the seller to confirm current trading hours. | All |
| Appointment only | This seller is available for appointment bookings. | Car/Bike/Caravans |
| Home test drives | The seller is able to bring the vehicle to the customer's home or office for the purpose of a test drive or demonstration. The customer should contact the seller for further information or booking. | Car/Bike/Caravans |
| Video call / tour | This seller is happy to have a video call or provide a video tour (walk-around) of the vehicle, all from the comfort of the customer's home. It is the customer's responsibility to ensure they obtain all information needed to make the right decision. The customer should contact the seller for further information or booking. | All |
| Phone deposits | This seller accepts deposits or reservation payments over the phone. Customers should contact the seller for further information and accepted payment methods. Customers are advised not to make payments before fully understanding the terms e.g. whether there is a right of refund. | All |
| Buy from home | The seller can arrange for a customer to buy this vehicle remotely, without having to personally visit the seller. The seller has in place provisions for the remote signature and exchange of documentation and online money transfers. It is the buyer's responsibility to ensure they obtain all information needed to make the right decision. Customers should contact the seller for further information. | Car/Bike |
| Delivery available | The seller can arrange for delivery of the vehicle to the buyer. Customers should contact the seller for more details and a quote. | Car/Bike/Caravans |
| Sanitisation policy | This seller has a written sanitisation policy in place, which will apply to any appointment or test drive. This seller has also agreed to observe social distancing rules as required. Customers must make their own decisions regarding whether such policies or rules are satisfactory and should contact the seller to find out more. | All |