What is it?
Inventory Distribution is a service which enables you to send your stock from AutoGate directly to other 3rd party websites such as Dealer Solutions, Gumtree, CarsGuide and more. With this service active, you are control the publishing to any of these websites through AutoGate.
How do I sign up to it?
If you are a new car dealer, this is already included as part of your subscription. Used car dealers are able to sign up to this service either through the AutoGate store, or through speaking with their account manager.

If you are a non-car dealer, this service is included as part of the AutoGate Pro package. If you are interested in this service, you can reach out to your account manager to find out more.
How to set it up
As part of the sign-up to this service, you will advise which 3rd parties you have agreements with to display your stock. Further to that, you can email support@carsales.net.au to add or remove 3rd parties from your list - our data team will contact the 3rd party to arrange the set up. If a 3rd party contacts carsales, we will ask a manager from your end to approve the feed request in writing (email will suffice).
How to manage publishing
Dealers who manually create stock within AutoGate, or are set up to manually publish stock to carsales can manage their publishing through the "manage publishing" section of AutoGate as shown below: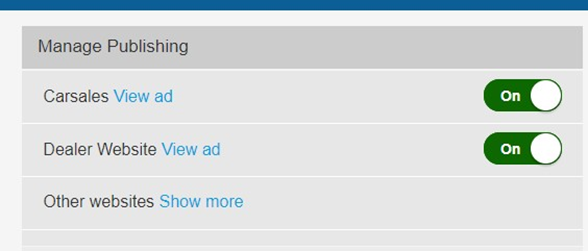 You can click on the "show more" button to display the full list of your available publishing destinations:
Each of these publishing destinations have their own publishing settings, and you can use the slider to switch between on and off. If you would like to automatically publish to any destination(s), you can contact our data team on support@carsales.net.au and specify which ones.
You can also filter by "published" or "unpublished" stock for each destination on your inventory page, as shown below: