What are Dealer Reviews?
In partnership with review platform Podium, feature the aggregated star rating of your customer reviews (from Google, Facebook, Product review and others) alongside your inventory for sale on carsales.
Give prospective buyers confidence
Highlight your business' reputation to prospective buyers and influence their onsite behaviour.
Capture more verified ratings
Automate review requests to carsales shoppers after a sales enquiry or purchase.
Quick and easy via AutoGate
Podium integrates with AutoGate for easy management of review requests.
If you are not a current Podium customer, please visit here to begin your sign-up.
How do I begin using Dealer Reviews – Podium?
If you are an existing Podium customer, you can begin your integration by visiting here.
Podium will guide you through the integration which you will complete through AutoGate Store, and following the activation prompts. Podium will provide you with your Location UID and API Token which you should have received via email from Podium.
If you are not a current Podium customer, please visit here to begin your sign-up.

How to setup Dealer Reviews – Podium via the AutoGate Store?
Before getting started
Ensure you have the appropriate Store permissions. You will also need Settings Management Permissions. As seen below.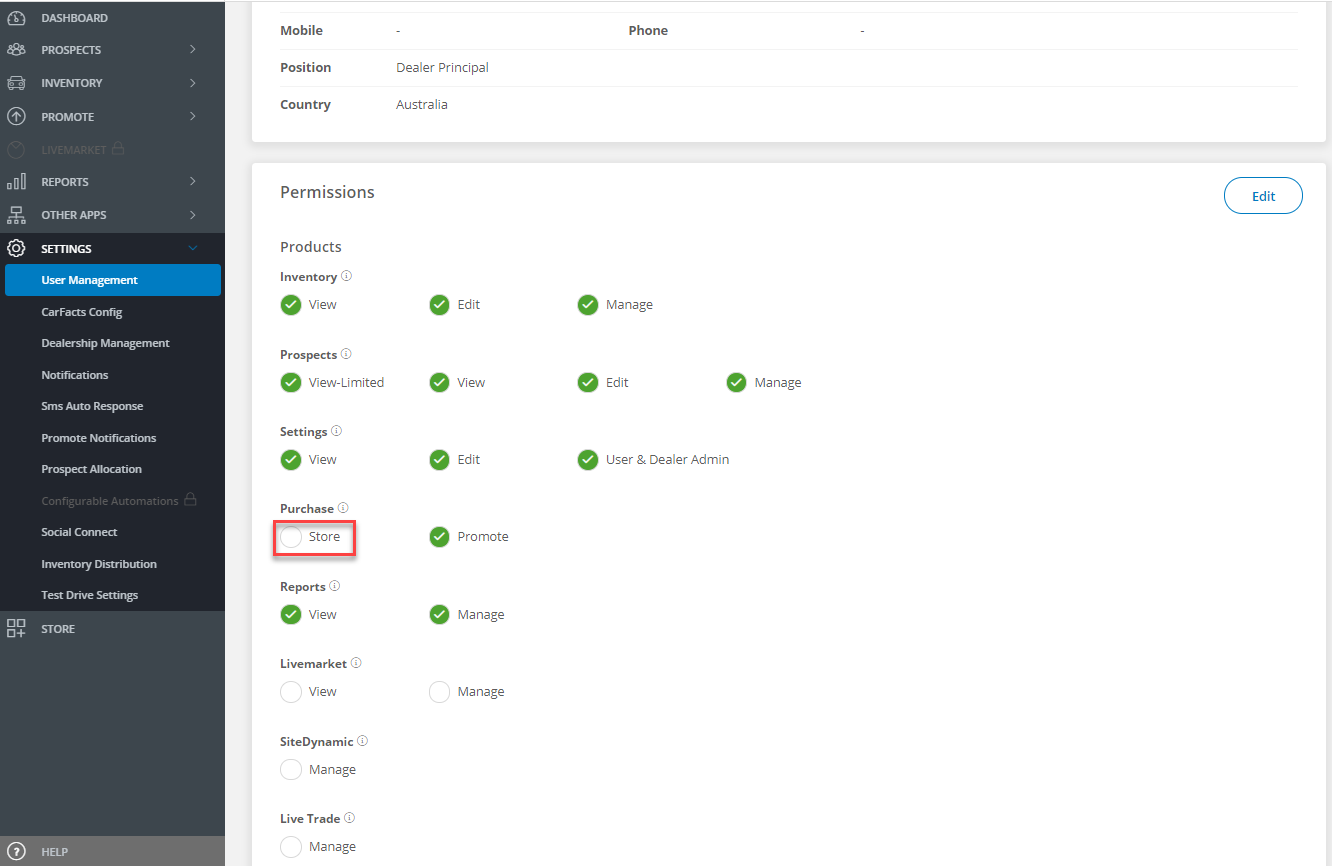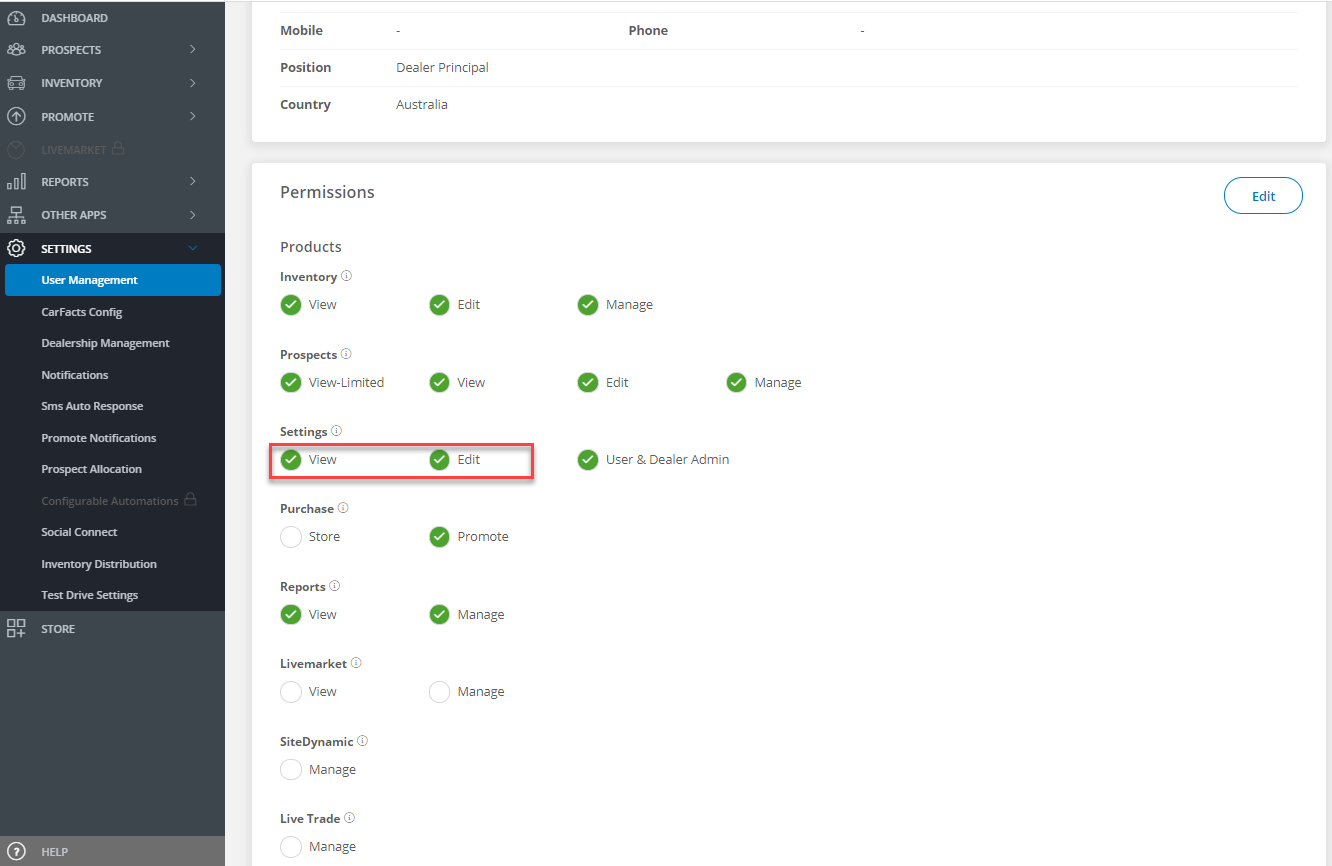 Contact your Dealership AutoGate's admin for more details about your permissions.
You will need an active Podium account for the corresponding dealership. Should you need further assistance please visit here or contact your Podium Customer Success Manager directly.

Step 1 – Subscribe to Dealer Reviews - Podium
Select Podium in AutoGate store (seen below) and proceed through the steps on the screen; review and accept the Terms and Conditions related to this integration.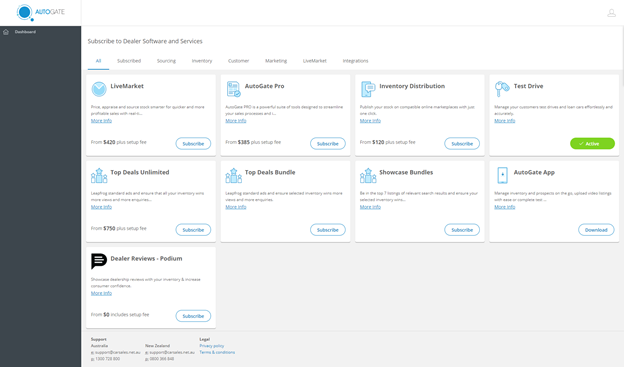 Once you have completed the subscription steps your activation will be shown as pending (seen below). However, you can immediately configure your integration for this account. It will be marked as Active later on and will not affect the integration services.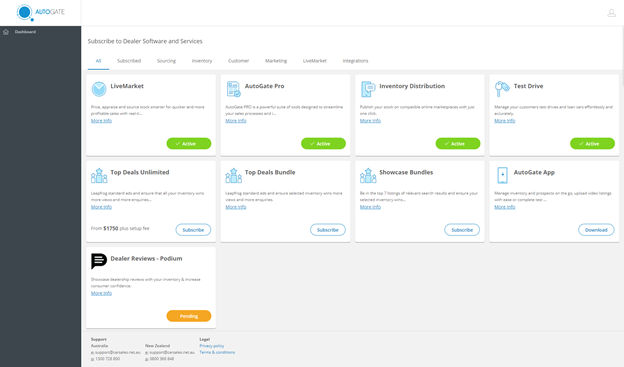 Step 2 - Authenticate
Once you have subscribed, navigate to your AutoGate menu Settings and then select Integration Settings. You will have the option to select your Podium Integration, as soon as it is activated.

Provide your Location UID and API Token (which are provided by Podium). Please visit here or contact your Podium Customer Success Manager directly, if you need help obtaining these credentials.

Step 3 - Activate
Once you have authenticated your account, you can turn on the Lead Data Integration and Publish Reviews on carsales.
Lead Data Integration – Enabling the lead data to be sent to Podium for the purpose of automating the review invitations.
Publishing Reviews – Enabling your aggregate Podium ratings/reviews to appear on carsales against your inventory.
Following setup within AutoGate, your Podium Account Manager will be able to take you through the setup of automated review invitations.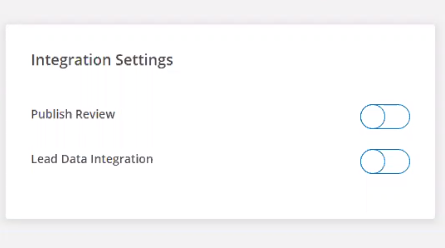 Should you need further assistance please visit here or contact your Podium Customer Success Manager directly.
How do I create an account with Podium?
If you would like to find out more about Podium's reputation management platform, book in a demo via the Podium website.
What does a consumer see on the listings?
Once your Podium account is integrated with carsales and you have toggled on Dealer Reviews within AutoGate, your inventory items will begin to display your aggregated review score. This aggregated score will appear on both the listings page and details page (as seen below).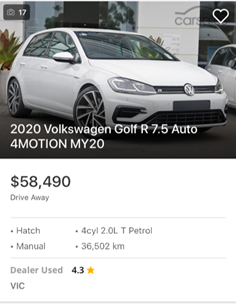 Where do I get my Podium activation key & location ID?
If you are a current Podium client, an activation key is required to link your account in AutoGate (as seen below). This will be provided by the Podium support team.

If you have proceeded to this point without a Podium account, please ensure you contact Podium here to begin creating an account.
Can I turn off or pause Dealer Reviews post-activation?
Yes, if you no longer want to have your aggregated Dealer Review score appearing on your dealership's inventory on carsales, simply visit the integration settings within AutoGate and toggle 'Publish Review' off (as seen below).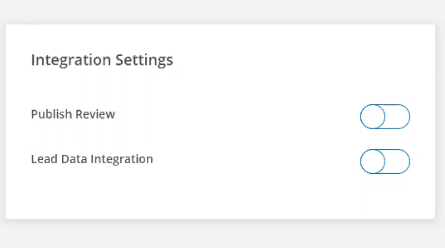 What do I need to do within Podium to automate review invites?
Login to your Podium account, click on the "Manage" tab in the top middle of your screen, and then click on "Automations" as shown below.

Once on the Automations page click the 3 horizontal bars on the far right in order to select the location you want to set up an automation for and then click "New Automation".

From here it will walk you through step-by-step how to configure the automation.
Step 1
Select the type of message you want to send.
Step 2
Name the automation.
Step 3
Select "carsales" as the data source.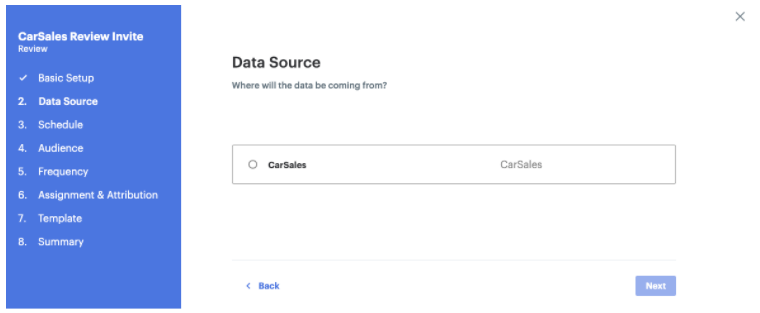 Step 4
Define when you want to send out the message. The most common is "When Trigger is received".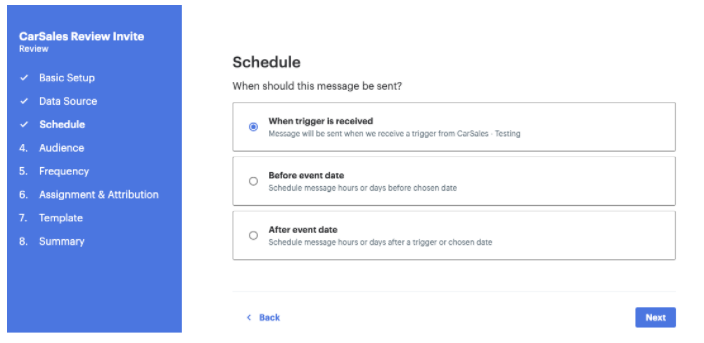 Step 5
Define the audience you would like to send this to. For example to send a review invite to those who purchased a car you would choose "Custom Audience" - When "Status" "Equals" "SOLD". Now this will trigger a review invite to go out to any customer within carsales that is marked as SOLD.
The statuses available to choose from within carsales include NEW, CONTACT, COMMITMENT, SOLD, LOST, DUPLICATE and UNWORKABLE. (make sure you capitalize the whole word).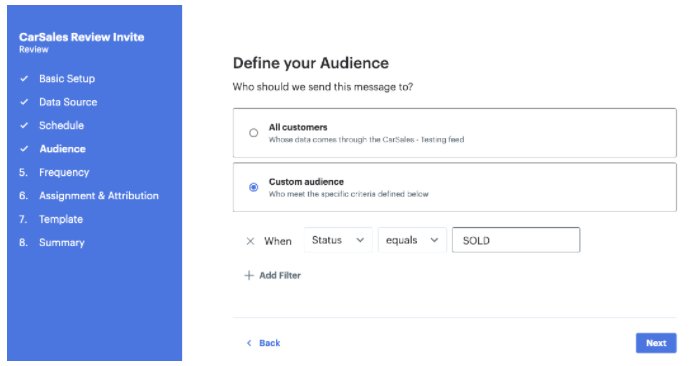 Step 6
Define the frequency to send the messages out. The most common is "Send once per trigger".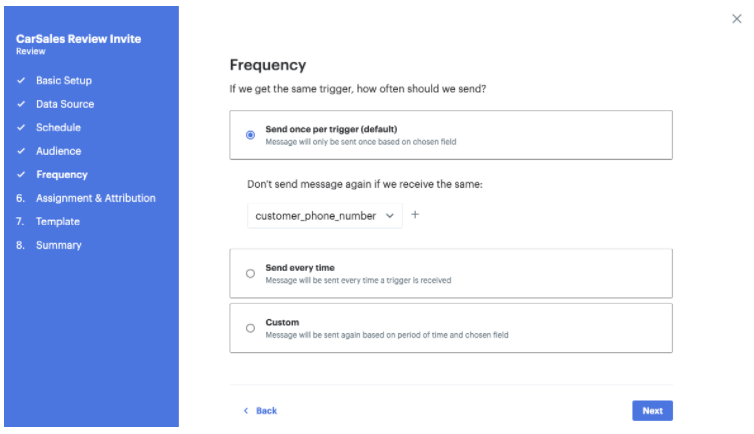 Step 7
Now you can define which inboxes and employees this message with get assigned and attributed to.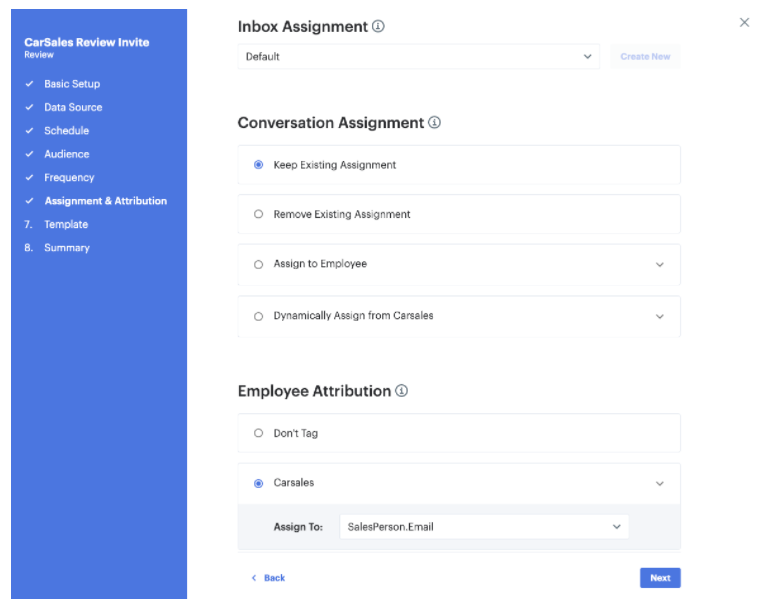 Step 8
Now select the template/message you want to send out.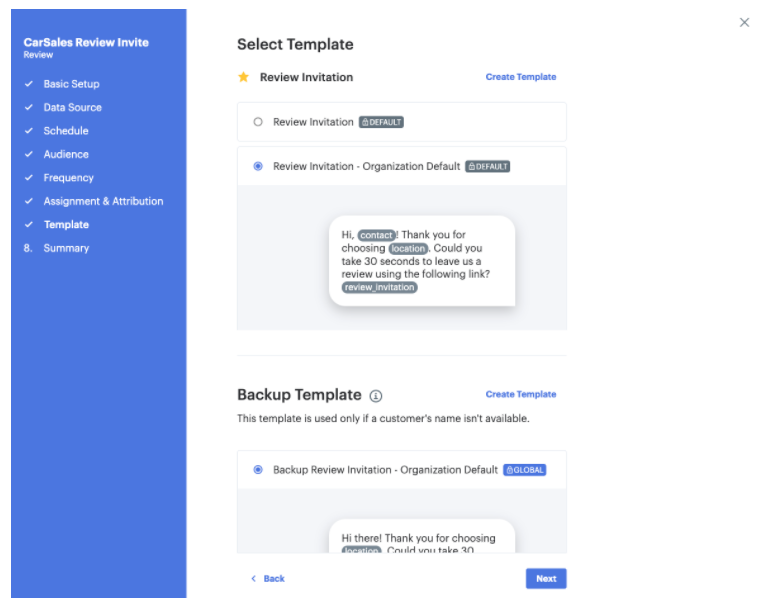 Step 9
Finally, review the information and make sure it is set up how you want it and then click "Save Automation".
You now have set up automation for that location.
NOTE: If you have more than one location within Podium repeat this process for each location you want to automate a message for and be sure to select the correct location by clicking on the 3 horizontal bars.