What is it?
We offer a premium service which allows you to customise the text message that is automatically sent out to a customer when they make an SMS enquiry. If you would like to subscribe to this service, please contact your account manager to have this set up.
Premium subscribers can not only customise their response, but a link within the text message will also be included. This link will take them straight to your other listings; helping drive further engagement with your stock. For anyone not subscribed to this service, the default message will be displayed.
Creating an SMS Auto-Response
To create an SMS Auto-Response, click on 'settings' in the left-hand side menu, followed by 'SMS Auto-Response'.
On the Auto-Response settings page, you will see a button to add a new SMS auto-response:
Once clicked, you will be displayed with the following template:
Clicking on any of the blue buttons at the bottom of the page will add dynamic tags to your SMS Auto-Response, which will automatically display the relevant details when sending the message. For example, clicking the 'telephone' tag will populate the telephone number which is configured in your contact details in the 'dealership management' part of your Autogate settings.
On the right hand-side of the page, you can adjust the name of your SMS Auto-Response, as well as toggle the "status" button on or off depending on which template you are wanting to use.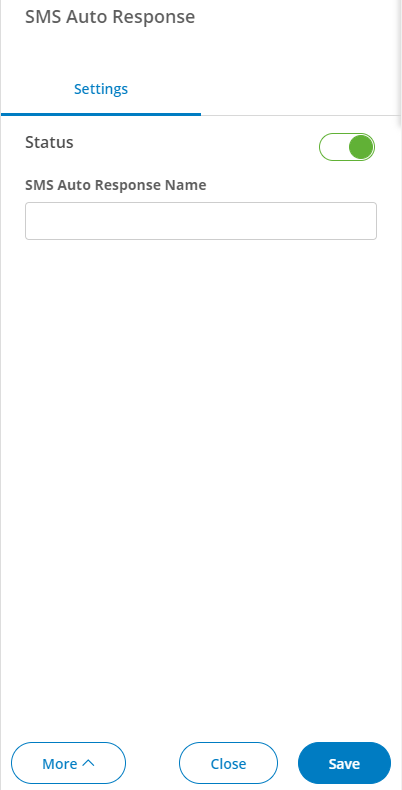 The "more" button at the bottom page will allow you to send a preview text message to your nominated number, or archive the template if you no longer need to use it. If your template is archived, the default message will be activated in its place.
Updating an SMS Auto-Response
When on the SMS Auto-Response page, you will see all Auto-Responses that have been previously created, accompanied by a 'status' and 'last updated' column.
To edit a template, click on the relevant template, and then click on the 'edit' button on the right-hand side menu as shown:
Make sure to save the template once you are finished with it!
Deleting a template
To remove a template, simply click on the template, click on the "more" button from the right-hand side menu, and click the "archive button" to remove it.